Your Dream Model Aircraft in your Living Room
Aviation enthusiasts know their aircraft and their Aviation passion is undeniable. To be honest, they live and die about their favorite aircraft. Imagine a custom display desktop aircraft of their favorite plane model in their living room. They won't get tired of seeing their aircraft in person.  In fact, they will even stare at a photo or desktop scale model of their airplane. 
Cessna Denali Desktop Aircraft – The Perfect Display for Your Living Room! 
Cessna Denali Custom Model Airplane is a perfect gift for an aviation enthusiast, a seasoned pilot, an aviation student, or a Museum caretaker. It's a model you can place in your living room as a decoration piece.
The model itself is handmade with care and detail, making it look as realistic as the real Cessna Denali. 
Many custom models are made of high-quality wood such as rosewood, mahogany, teak, and other exotic tropical wood. They can also be fabricated using various metals or fiberglass to build the aircraft. The build time can take 8-12 weeks depending on the level of complexity to build the model.  Once the model is complete, the models are sometimes partially disassembled to minimize the possibility of damage during Transit. 
Aircraft models are crafted and painted with precision to resemble the actual aircraft. This aircraft model makes a great gift for pilots and aviation enthusiasts alike.
Custom Handcrafted model features that them unique when compared to other models.  High-quality brass and stainless steel materials ensure that the plane will last a lifetime without any problems. Although Aircraft Models can be purchased on Amazon, eBay, and other shops, Custom Made models cannot be found in any store.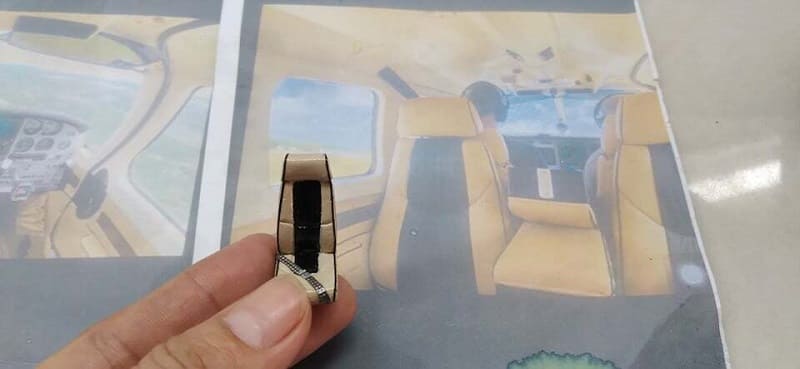 A custom aircraft model is One of a kind.  Every detail is replicated.  Take note of this Replica of a passenger seat with beach and black trim.  Notice the matching piping on the upholstery and the articulation of the headrest, bolster, and seat belt. Imagine the attention to detail spent on a single seat.  If this time and energy are exerted in one seat! Imagine how much effort is needed in the entire aircraft.   
Each plane comes with a signed certificate of authenticity and is guaranteed to arrive in mint condition. 
The Cessna Denali custom model aircraft comes fully assembled, so there's no need for glue or other tools. The only thing you'll need to do is sit back and enjoy your new model airplane!
Cessna Denali Custom Model Aircraft Features 
Following, we have listed all features of the Cessna Denali:
Crew:

1-2.

Capacity:

7-9 passengers/1,100 lb (500 kg) full fuel payload.

Length:

48 ft 9 in (14.86 m)

Wingspan:

54 ft 3 in (16.54 m)

Height:

15 ft 2 in (4.62 m)

Cabin Height:

58 in (150 cm)

Cabin Width:

63 in (160 cm)

Cabin Length:

16 ft 9 in (5.11 m)
Cessna Denali – The Aviation Enthusiast's First Love!
Cessna has been a well-known name for aviation enthusiasts in the industry. It is the latest addition to the company's line of aircraft. 
It's a twin-engine turboprop designed to carry nine passengers and two crew members. It is also made with advanced technology that is not available with other models.
The Cessna Denali made its debut in 2020, but it took several years before it went into production. One of the key features of this aircraft is its unique design.  The Model Airplane can accommodate up to nine passengers comfortably. 
There are two seats for the crew, one for an observer and six for passengers. The cabin area is large enough to sit comfortably during long flights and enjoy your favorite entertainment options such as movies or music without feeling cramped.
Its powerful engine allows it to reach 350 knots per hour to reach a cruising speed. It will be configured with either an automatic or manual transmission depending on what type of pilot you want to purchase it for.
The Cessna Denali comes equipped with advanced safety features that include a parachute, airbags, and anti-skid brakes.  If you are a Cessna Denali enthusiast and cannot quite afford to buy one, the next best option is to have a replicate of the specific Cessna Denali in the same color, design, accessory, and interior.  Modelworks can even add your Aircraft Tail number and exact trim details. 
In a nutshell, it's a perfect display piece for your living room to be placed as a symbol of your love for Cessna Denali aircraft!
For more information,
Subscribe to our youtube channel: ModelWorks
Like, Share, and Subscribe.
Instagram: @ModelWorksDirect