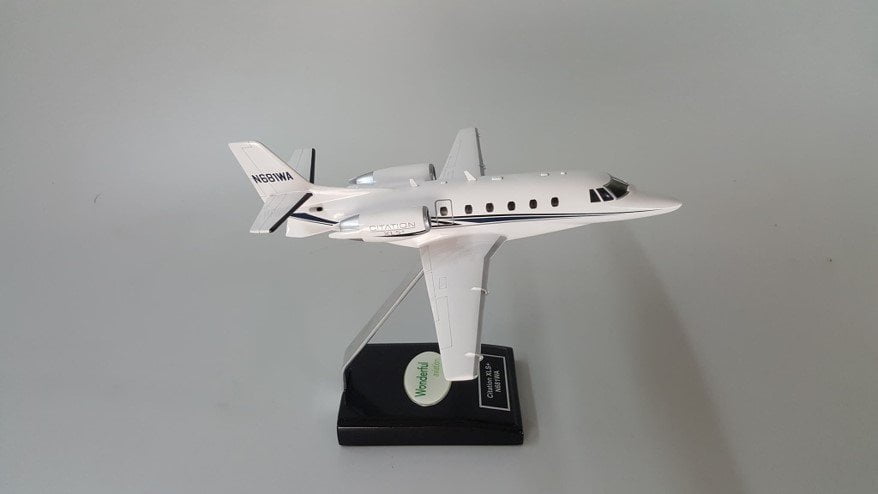 CESSNA CITATION XLS+
12 INCHES CLEAR CANOPY
CUSTOM MADE FROM WOOD
WITH BASE AND FREE SHIPPING
PRICE: $514
INSCRIPTION PLATE $5.00 LOGO $10.00
Do you happen to be the proud owner of your very own Cessna Aircraft? Cessna has come a long way. If you own a Cessna Citation XLS, you have also come a long way. Celebrate this achievement or someone's aircraft with a Replica Model of the Cessna Citation XLS+.  The Citation comes in many features and Livery designs.  Modelworks will replicate your artwork flawlessly.  In fact, if you own any type of airplane, Modelworks will gladly replicate your aircraft using your photos.
HISTORY
The Cessna Citation XLS+ is an American Midsize business jet introduced in 1994 by Cessna. Cessna eventually rebranded under the name Cessna Textron Aviation. This 2008 XLS+ includes upgraded engines and a revised front nose.  Modelworks Artisans are very skilled in capturing the subtle curves and undulations in the aircraft's shape and form.  Order your Custom Aircraft Model from Modelworks Direct to ensure one of the highest handmade custom models on the planet. Artisans will replicate every detail of your Airplane using your photographs.  Order the Ultimate gift for any pilot or auto enthusiast today.
今まで注文した中で最もリアルなレプリカです。インテリアのディテールは、どれにも負けません。多くの企業がペイントされた窓しか提供することができません。モデルワークスは非常に競争力のあるレートを提供しながら、非常に高品質ななインテリアを提供することができました。
これらの人は素晴らしかったです。彼らは私の困難な要求を満たすために喜んでいたし、会社の所有者と直接一緒に作業していた。彼らは、私のニーズと非常に柔軟で、リピーターだかた割引を与えた。
MWD QUALITY ASSURANCE
We are known for many positive things! One is that we build our products like model airplanes. Another is we build everything from scratch. ModelWorks Direct is transparent to all its stakeholders about its business. We even make it a point to feature many of our models on YouTube and Facebook Page to highlight our expertise. We can always boast that our company exceeds the expectations of our clientele.
The truth is we only employ 25 artists. Our senior business partners consist of a Master Model Builder with over 20 years of experience. Another partner is a Design Architect with an exceptional portfolio of accomplishments. Likewise, our family of Artisans has more than 100 years of combined experience.