Model Aircraft
Passionate about aircraft and aircraft models? Always wanted to make one or to fly a model airplane? Well, allow me to give you some inside information on model aircraft.
There are two types of model aircraft – the ones that fly, and the models that are just replicas of airplanes, some that are famous, some that operated during the wars, and many other exciting types of flying machines.
First, let's talk about the aircraft that are just models, mainly for personal viewing or collections of models that are interesting to you, the individual, or companies and airlines that use them for marketing purposes. In addition to these, there are custom model aircraft that, for one reason or another, have become famous. One unique example is the "Spruce Goose," the largest flying boat ever designed and built by Howard Hughes. More on this particular aircraft later on in this article.
To delve more into the realm of model aircraft, we need to discuss what makes this a unique opportunity and hobby for many people. It attracts the very young, as well as adults and the elderly, and lovers of aircraft in general. In other words, a fascinating hobby for a vast number of individuals the world over.
The very young usually start by building model aircraft that are available in kit form, from many hobby shops and even department stores. These are scale models and made from extruded- colored plastic. They come disassembled in many small pieces and many times with plastic cement to help with the assembly and decals to decorate the finished model. Even though a stand is included in each kit to show off the model, many people suspended their models on a thin transparent fishing line to make the model appear to be flying!
Then there are the more intricate designs of more unique models that require more skill in the assembly stage. As one progresses through the different stages of model building, the desire mounts for more involvement either in the model building area or wanting to get involved with actual flying model aircraft.
Once the desire begins to heat up, the thirst for more knowledge in the aircraft industry becomes overwhelming. There are so many areas and aspects to the aviation industry, it is a new world of sights, sounds, opportunities, and career choices.
If, however, your main interest is model aircraft, then choose to get involved with custom model aircraft and see the full range of aircraft, stories, and histories that are attached to these famous aircraft.
This large aircraft, which was built and supposed to be purchased by the US Army for use in WWII, was the dream of the aircraft designer, billionaire, and recluse, Howard Hughes.
Unfortunately, his dream became a nightmare due to the many challenges and unique designs for a large flying boat (also known as a Seaplane) during the second world war.
Fantastic and futuristic flying boat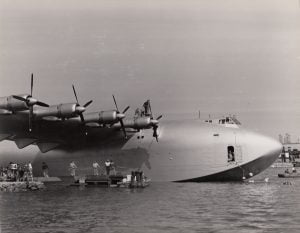 The Magnificent Spruce Goose – A Wooden Aircraft!
More history behind this project. This magnificent flying machine, when finally completed after many years of construction, only made one very brief flight! It made a very short flight in Long Beach, CA, and lasted for less than one minute and only reached a height of seventy feet. However, it was a significant accomplishment for Howard Hughes, the founder of Hughes Aircraft Company in 1932. Howard Hughes had an incredible aviation career and designed, built, and flight-tested all of his creations (and crashed a few).
One of Howard Hughes's almost famous aircraft designed for the USAAF was a long-range, high-altitude photographic reconnaissance aircraft. During the first XF-11 flight in 1946, Howard Hughes crashed the plane in Beverly Hills, CA. He was almost killed in the crash but managed to recover from his injuries to continue to develop and test his aircraft.
The Hughes XF-11
The Hughes XF-11 may look quite familiar to many aviation enthusiasts for a good reason. The P38 Lightning designed and built by Lockheed Aircraft seems as if it is a close relative of the XF-11 with many similarities. The most evident being the twin booms extending from the engines back to the rear fuselage and rudder.
In terms of custom model aircraft, these are just two examples of the unique nature of the aviation industry and the history that is preserved by the many models that remind us of our aircraft heritage.
The Hughes H-4 Spruce Goose is a custom model aircraft that is available for hobby enthusiasts who enjoy assembling model aircraft. Like the original design and construction of this "flying boat," which was built entirely out of wood, the scale model of the Goose is also a wood product. The finished model is relatively large, having a wingspan of 30 inches. It is available from Horizon Hobby and Dumas Hobby shops. It is for static display only.
Check out our next article on flying model aircraft………….