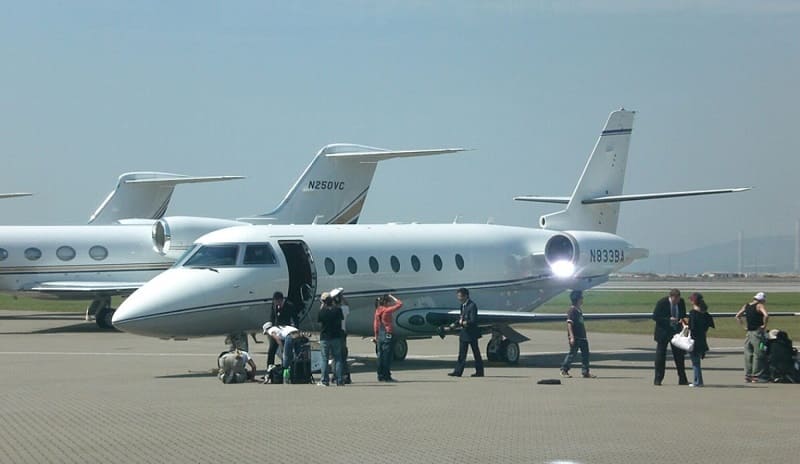 The Gulfstream G200 is a remarkable high-performance business jet manufactured by Gulfstream Aerospace. This article will delve into the specifications, features, performance, interior, and unique characteristics of the Gulfstream G200. From its cutting-edge avionics and safety systems to its luxurious cabin, the G200 offers an unparalleled travel experience. Let's explore the details of this amazing aircraft and its custom model in which it became one of the collectors' choice. 
Specifications and Features of the Gulfstream G200
The Gulfstream G200 boasts a range of advanced systems and features that position it as one of the most capable aircraft in its class. Its power is derived from two Pratt & Whitney Canada PW306A turbofans, providing each thrust with 6,040 lbf. With this power, the G200 can achieve cruising speeds of up to 459 kn, ensuring efficient and swift journeys.
Equipped with state-of-the-art avionics, the G200 features three LCD displays, offering clear and comprehensive flight information to the pilots. Additionally, a head-up display (HUD) enhances situational awareness, while an enhanced vision system (EVS) assists with visibility in challenging conditions. The aircraft also incorporates dual navigation systems, reversionary control (RC) for both pilots, and an autopilot system, providing advanced guidance and control capabilities.
Comfort and Convenience: Exploring the Interior of the G200
The interior of the Gulfstream G200 is meticulously designed to maximize comfort and convenience for its passengers. With a spacious cabin capable of accommodating up to 16 travelers in a three-zone configuration, the G200 ensures an enjoyable journey for all. The cabin features sound dampening insulation, reducing external noise and providing a serene and tranquil environment.
Unparalleled Performance and Impressive Range
When it comes to performance, the Gulfstream G200 surpasses expectations. The aircraft possesses a maximum flight range of up to 3,400 nautical miles, granting it exceptional versatility. Whether it's transcontinental flights or intercontinental travel, the G200 can efficiently transport passengers to their desired destinations.
With its twin  Pratt & Whitney Canada PW306A turbofans generating up to 5,000 lbf of thrust each, the G200 can achieve a maximum speed of 487 kn. This impressive speed allows for swift travel, reducing overall flight duration. Furthermore, the aircraft reaches a remarkable maximum altitude of 45,000 feet, enabling it to soar above inclement weather and traffic congestion.
The Gulfstream G200 exhibits an exceptional time-to-climb rate, taking a mere 18 minutes to reach its service ceiling. This quick ascent ensures efficient operations, minimizing travel time and maximizing productivity. The aircraft's advanced avionics suite facilitates a rapid takeoff, with a rate of 1,600 feet per minute when departing from ground level.
Safety and Technology: Protecting Passengers Every Step of the Way
Safety is of paramount importance in the Gulfstream G200, and the aircraft is equipped with cutting-edge technology to ensure a secure and pleasant journey for its passengers. The full-time Ground Proximity Warning System (GPWS) constantly monitors the aircraft's proximity to the terrain, providing pilots with audible and visual alerts when necessary. This comprehensive system enhances situational awareness, minimizing the risk of potential accidents.
The G200 features an Electronic Flight Bag (EFB) system that simplifies operations and enhances crew efficiency. This system provides digital copies of manuals and essential documents, enabling the crew to access important information swiftly and conveniently. With the EFB, pilots can easily retrieve critical data, improving decision-making and reducing workload.
Additionally, the Gulfstream G200 possesses automated landing approaches, leveraging a combination of GPS, microwave landing systems, and instrument landing systems. This advanced technology ensures precise and safe landings, even in challenging weather conditions. By integrating these sophisticated safety features, Gulfstream Aerospace prioritizes the well-being of passengers and crew alike.
Gulfstream G-200 custom model 
For anyone passionate about both flying and modeling, few things are as satisfying as being able to own a custom model of their favorite aircraft. And when it comes to iconic business jets, there are few that are more beloved than the Gulfstream G-200. If you're looking for a thoughtful gift for a fellow aviator or you simply want to add a show-stopping conversation piece to your own personal collection, a detailed Gulfstream G-200 custom model is sure to impress.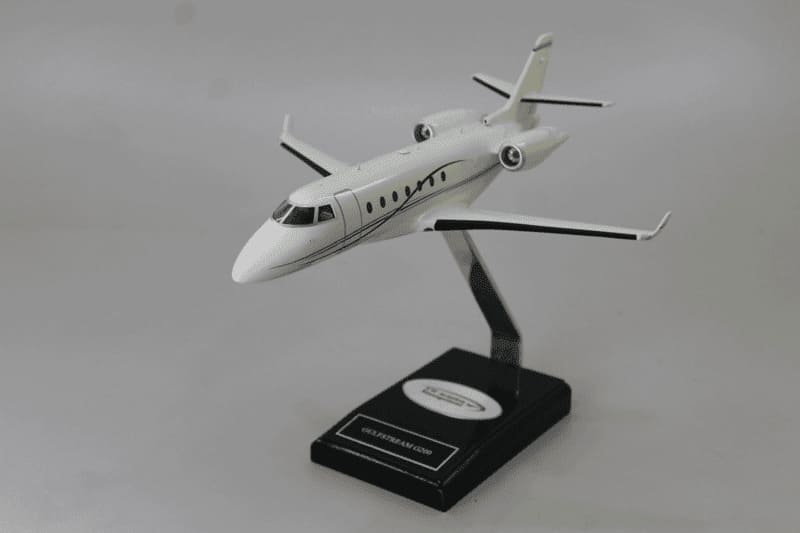 Each scale model is hand-crafted from the highest quality materials and finished with an impressive level of detail, including accurate markings and realistic weathering. And with a variety of customization options available from wooden models, custom models, replica kits and detailed models, you can have your own model that is unique to you.
So if you're ready to take your passion to new heights, consider ordering a replica of the Gulfstream G-200 custom model today.
Conclusion: The Gulfstream G200 – A Superlative Business Jet
In conclusion, the Gulfstream G200 stands as a testament to Gulfstream Aerospace's commitment to excellence in aviation. This high-performance business jet offers an array of exceptional features, ensuring passengers experience unrivaled comfort, convenience, and safety. From its powerful twin engines and advanced avionics to its spacious and luxurious interior, the G200 represents the pinnacle of luxury travel.
With a maximum range of 3,400 nautical miles, a cruising speed of 459 km, and a maximum altitude of 45,000 feet, the G200 enables seamless and efficient travel, no matter the destination. Its attention to detail and focus on passenger satisfaction elevate the flying experience to new heights. When it comes to business jets, the Gulfstream G200 undeniably stands out as an extraordinary choice for discerning travelers seeking the ultimate in luxury and performance.