Whether you're inspired by the figures you saw at ToyCons or you're just picking another hobby, deciding to build scale models is a great way to keep you occupied.
It also gives off a feeling of pride and a sense of achievement as you look into your finished pieces.
In this newbies guide, we will provide you with tips on how to pick the best model kits for beginners, where to find them, and other basic questions that most people ask before they dive into this kind of hobby.
What Are Model Kits
Basically, model kits are made of small parts that can be assembled to make the final product/ model.
Model kits can be anything- be it military or civilian vehicles, action figures, spaceships, or anime characters.
Model kits vary in difficulty or levels.
The more parts available for every model you choose, the difficult it is to assemble.
Plus, there are times that a scale model might be painted or glued first before it can be assembled.
This requires more skills and is often sold as a model building kit for adults.
Most commonly bought model kits are made of plastics, but if you want a sturdier and more sophisticated look for your models, then there are several shops that customize scale models like Model Works Direct.
Then, What About Scales?
When we talk about scales, the first thing that comes to mind is numbers.
For the model builder, scale refers to how much the model has shrunk relative to the models' original size.
The sample number of scales is 1:1, 1:10, or 1:72. If you notice,  there are two numbers on either side: Those are called ratios.
It defines how many units on the real thing are compared to one unit of the model.
A full-size figure model measures 1:1.
This means that 1 foot of the scale models size is also equal to 1 foot on the original model.
So, if the model you choose has a 1:10 scale ratio, then it is the one-tenth version of the original model.
You do not have to worry because most categories of models have a range of common scales that is quite manageable for an average person to finish. 
Like, for example for car models the most common scale is 1:24; for military models, you can either choose 1:35 or 1:48. Aircraft can vary from 1:32, 1:48, or 1:72, although sometimes for larger commercial jets, we can get a 1:44 scale.
For ship models, scale ratios are a bit different because most original scale models are so large, but we can see ratios like 1:72, 1:350, and 1:720.
What Skill Levels Should I choose?
As I have mentioned earlier, scale models have a variety of difficulties or levels.
The more parts there are, the difficult it is to build.
There are basically five levels that match how difficult it is to complete a certain model.
We will recommend that you start with level 1 because you're just starting this journey but once you get a hang of it, then you can proceed to a higher level.
You can see these Skill Levels printed on the box or on the manual.
Skill Level 1 – Newbies first step.
There are no glues, paints, or cement needed to build the model.
There are only a few pieces to complete the model and mostly, there are no rotating or moving parts included.
Sounds very basic, but that's what skill level 1 kits have in store for you.
The idea is to let you learn how to make things go together.
You need to figure out where each part sits and if they fit with other parts.
Some best model kits for beginners include the Monogram Ford Police Car build.
Skill Level 2 – Still easy to complete and has a hundred or fewer pieces included in a kit.
There might be some painting or gluing needed because there are kits that come only in their primer color.
This level might start to be fun for you because you can customize how your scale models will look.
Because there are more pieces included than on skill level 1 kits, a little patience and focus are needed to finish these types of models.
Instructions are a little bit detailed for level 2 and you need to pay attention or else you would be taking down pieces that you've built just to insert a small one.
An example of this kit is the VW Street Machine ( Bug) by Revel.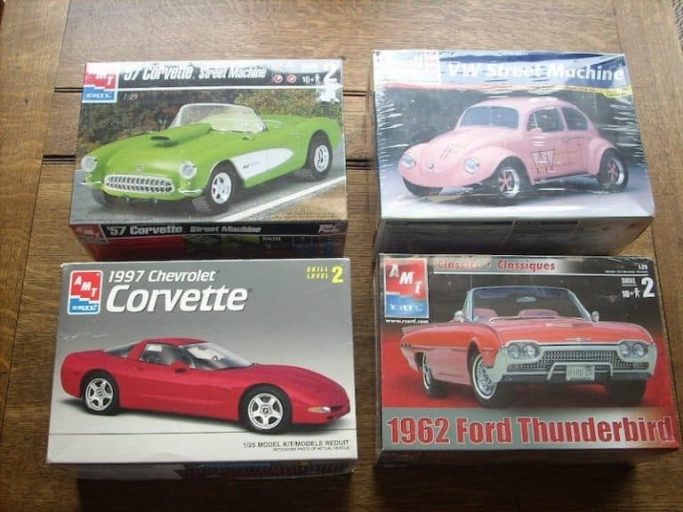 Skill Level 3 – A preparation step for level 4.
There are a hundred parts included in a kit.
Some of those parts are smaller and need more detail. Designs on the scale models are getting more intricate and painting instructions are getting hard too.
One good example of this is the F-22 Raptor Plastic Model Plane kit by Revell.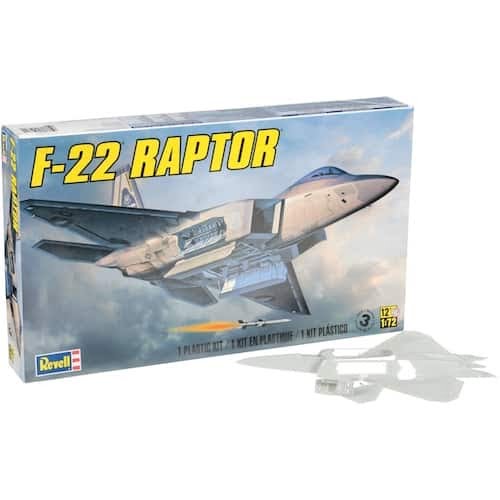 Skill Level  4 –  Most
model building kits for adults
are under this level.
It's way more advance than model kits in level 2 and has much more intricate details and smaller parts than in level 3.
Aside from painting and putting some adhesives, level 4 model kits now has some movable parts on the inside- like a car engine installed in the hood of the model car, similar to its original model.
This level will test your patience, as well as your dedication because you would be spending a lot of time building this scale model.
A perfect example of this skill level is the Revell 55 Ford F- 100 Street Rod 1:24 scale.
Skill Level 5 – These are for the hard-core model builder.
With over a hundred or thousands of pieces, these models could take not just days but months to finish.
There are more detailed parts included and there are rotating propellers for planes or moving suspension for motorcycle models.
These kits are also expensive, but once completed, they can sell for even more than the original price.
Most of these kits are ships or very detailed cars as models, just like the  Revell 1/24 Ferrari 250 GTO Plastic Model Kit.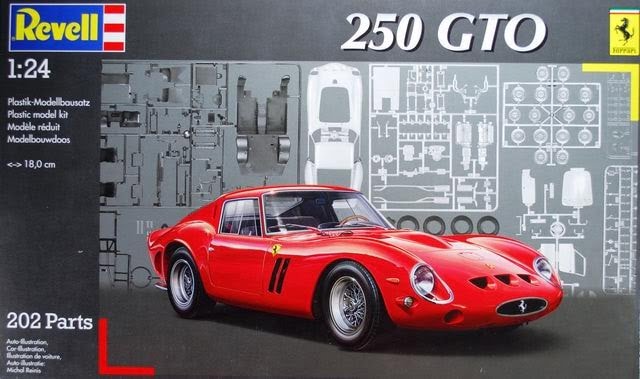 I Want To Start Now, Is There Anything Else I Need To Know?
First, we need to assess your skill level, age, and your experience in "building" things. Skill level 1 kits are the best model kits for beginners. You can easily get them and assemble them fast. Often, these kits are just the snap-on types and are recommended for kids below ten or to those who have no experience in scale modeling. But if you are a lot older than ten, then you can start the Level 2 kits.
There are also things you need to have that can help you to build a model. First is a good, sharp hobby knife. You will need this for cutting off parts from the sprues- or the plastic casings where the individual pieces are stored. And second, you need a small file that you can use to smoothen the edges or imperfections on the pieces. An emery board is a good substitute for this, especially for those who are just starting.
As for adhesives, glues are mostly used to "melt" both ends of plastic and bond them together to form new seams.  If these seams still have imperfections, (which they rarely have,), then you can use modeling cement. 
Paints can be a little overwhelming for newbies to learn because it takes time to combine the perfect colors to make it look like the finished model pictured on the box. We can suggest that you cut your color list down, and as you level up your skills, you can store up on more colors.
There you have it! You can now start shopping for your target scale models, and we hope that this guide is a lot of help for newbies out there who want to start building and collecting models. 
Have fun building!
Please visit http://modelworksdirect.com and call 1-844-8MODELS
also subscribe to our youtube channel: ModelWorks
Like, Share, and Subscribe.
Instagram: @ModelWorksDirect