Gary Walters: The Realtor who won an airplane in AOPA Sweepstakes
Gary Walters: The Realtor who won an airplane in AOPA Sweepstakes
Huge, glorious prizes, and once-in-a-lifetime cash bonanza!
These are two major factors that drive so many people crazy about joining sweepstakes and "entering to win!" The guaranteed reward (which is given away, at no charge to the participants) is just a dream that's waiting to materialize. But is it, really?
The odds of winning in the sweepstakes depend on the prize offered and the number of entries received. If the prize is really good (such as millions of dollars, brand new car, a cool new aircraft, etc.), then there would be low odds of winning. It may be 1 in 1,000 chance of winning, or 1 in 1,000,000. It depends.
Typically, these kinds of sweepstakes are worth the long shot, and it proved to be true in the case of Gary Walters.
The man given the freedom to fly
Meet Gary. He is a line and instructor pilot for Allegiant Airlines, an American low-cost airline, and the 9th largest commercial airline in the US owned by Allegiant Travel Company.
Gary just came to the fixed-based operation at Henderson Executive Airport, where he thought he'd meet a potential client. He and his wife, Sandra, have been operating a part-time real estate business, and he happily prepared himself to sell a house to the longtime friends of AOPA and Baker, Greg and Suzanne Herrick.
It was supposed to be a meeting about finding a new home.
Little did he know, he was walking into an elaborate real estate scam, which turned out to be the best day of his life!
Gary was dumbfounded when he found out he is the winner of the 2017 AOPA 172 Sweepstakes. "No way! Come on! You gotta be kidding me!" He didn't shy away from a huge reaction of disbelief when the AOPA President Mark Baker shared the great news.
The President asked him if he had ever won an airplane before. Without breaking a sweat, he simply asked "How?," not knowing he'd be awarded a set of keys and blown-up photos of the airplane that will soon be his.
An extraordinary gift for the whole family
The AOPA Sweepstakes 172 was launched in 2016 with the acquisition of a 1978 Cessna 172N. The sweepstakes closed May 31. An independent accounting firm tallied the entries and chose the winner.
What would you do if you were the winner? Well, the unsuspecting member and AOPA Sweepstakes 172 winner, Walters, learned to fly in Burbank, California, and he said he'd take the Sweepstakes 172 on a trip to visit his other family members in Southern California.
A special plane, reserved for a very lucky realtor
The 1978 CESSNA 172N fixed wing single engine aircraft, began its life as N172WN, and N739HW. It is actually just the fourth CESSNA 172N to go through Yingling Aviation's Ascend Program. The said program is a meticulous, top-to-bottom comprehensive re-manufacture, involving a rigorous process of new parts, inspection, and renovation to bring the best quality craftsmanship.
It starts with a major airframe inspection, including compliance with all Supplemental Inspection Documents, or "SID" items, engine and propeller overhaul. One would be relieved to find that the new digital engine gauges, radio, navigation systems, and other analog flight instruments have been given the comfort and reliability of modernized equipment.
It doesn't stop there. The transformation is said to boast of an updated appearance package, as well as total renovation of the interior, and a distinctive signature paint scheme. With this Ascend Program, it will probably make your heart soar!
The N739HW was a family aircraft that originally belonged to Thomas Johnson of Westminster, Maryland. He donated N739WN to AOPA so he could make room for other aircraft projects, and one that included a CESSNA 195. Johnson said that it has been a "very good airplane," and that he enjoyed every minute using it.
Now, after sitting in a hangar for 10 years, the CESSNA 172 received an annual before it was flown to Yingling Aviation's expansive repair facility in Wichita, Kansas. That was when the real transformation began. After being underutilized for quite some time (and being pretty old), the airplane had some corrosion in the ailerons, flaps, elevator, and rudder – which had to be cleaned out or have its damage skin repaired rather meticulously.
This aircraft, no matter how old, is not to be taken as a joke, though. The CESSNA 172 is the most successful aircraft in the world, if measured by its longevity and overall popularity. It was first flown in 1955, and more 172s have been built than any other aircraft (there are more than 44,000 CESSNA 172s built to date). The popular aircraft remains in production today.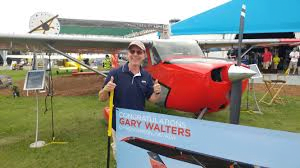 Just like a new airplane
The people behind the renovation of the airplane didn't overhaul the engine on the CESSNA 172. Instead, they installed a new one and gave it a boost, with a 180-horsepower O-360. Its Skytect starter and Plane-Power alternator were said to be donated by Hartzell Engine Technologies.
The engine also comes with a Sensenich propeller (imagine the craftsmanship, technology, and performance with this one), and has an Air Plains STC, providing a 200-pound gross weight increase.
Scoring a major power panel upgrade, N379HW's panel became a palette for the greatest avionics with sought out innovations, and non-TSO'd solutions (like the Garmin G5 electronic attitude indicator) that surely freshened the look and utility of the sturdy CESSNA 172. We're pretty sure the Sweepstakes winner, Garry Walters, is just as pleased!
Not to mention that the aircraft has been outfitted with dorsal fairings, strut fairings, a new vertical fin tip, and other speed modifications, light-emitting diode lights in the wing tips, and LED landing lights. This airplane is just hard to miss! The exterior paint is also remarkably done with a beautiful metallic gray color, as its base.
The seats have been covered with gray Ultraleather (soft, durable, and easy to clean), which is more easier to clean than ordinary leather. Also installed were USB ports in the ceiling for greater utility, and some custom-designed yokes for a finishing touch.
A plane he could keep for a lifetime
There's no denying how lucky Gary Walters was when he won the Sweepstakes. And that's exactly what he intended to remember the rest of his life – he was lucky enough to win his OWN AIRPLANE.
He found himself compelled to have a model aircraft – a complete replica of the CESSNA 172 – produced by none other than ModelWorks Direct, the top model fabrication company which provides ace and high quality aircraft representations (including automative, maritime, etc. models) sure to please any hobbyist, collector, or company!