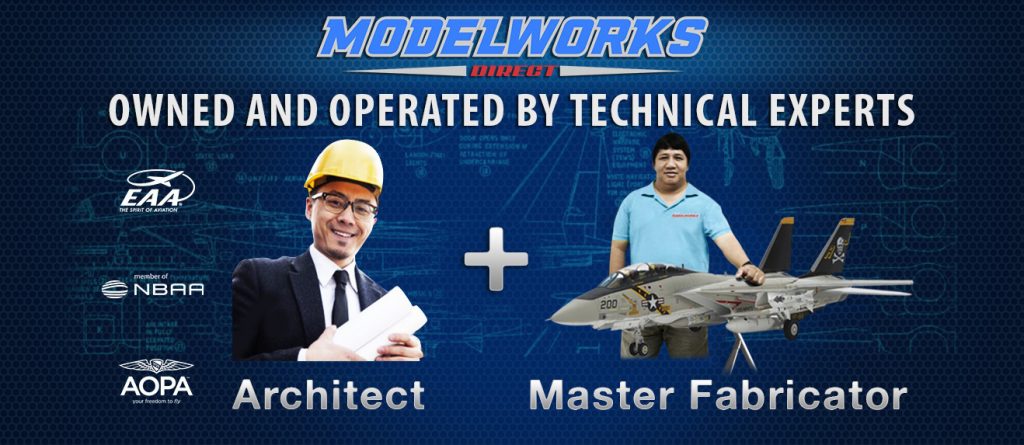 M
MODELWORKS DIRECT is owned and operated by Direct Model Fabricators with over 20 years of experience. We are an Artisan owned small company with low overhead, but can rival the top model builders in the world! Our low overhead allows us to build models at a fraction of the cost. We don't have fancy corporate offices or shareholders.  Our business model allows us to provide the highest quality custom build model at a fraction of what larger corporations charge.
Modelworks is very different from just about every model builder in the industry. Did you know that most model companies simply buy their models from other companies? Many depend 100% on outsourced Artisans and don't have a clear understanding of the operation.
Custom Aircraft Models
Custom Military Airplane Models
Custom Yacht Models
Custom Military Ship Models
Custom Train Models
Custom Desktop Models
Large Airplane Model Displays
Custom Models from 12 inches to 21 feet
Turn YOUR Photographs into  Custom Model!
Call us Today 1-224-88-4800
In fact, many so called "Pilot Owned Model builders" don't have the ability to build 1 single model by with their bare hands! Would you hire a home builder who simply outsources their fabrication to another company?
Modelworks is the "real deal". Owned and Operated by Architects and Master Model builders. Real Fabricators that have built projects for Google, Maersk Corporation, Epic Fuels, Good Year and many more. Our custom model aircraft, custom ship models, and car models are documented on our MODELWORKS youtube channel at https://youtube.com/modelworks.
Modelworks mastery of fabrication is second to none. Custom models are 100% Handmade at our shop. These custom models are not "Outsource" or "Made in China". We don't buy models from China. We can build any model in any size from 12 inches to 21 feet.  Our satisfied customers say it all! Experience the Modelworks Difference!
Handmade Models built from scratch
Our models are built handmade by our model building family. They are NOT part of a model kit. We do not use 3D printers we believe in making everything by hand. Modelworks is very transparent about how we do business. We feature many of our models on our YouTube Channel and Facebook Page to show our craftsmanship. We are not like other companies who simply buy their models from other companies or freelancers.
ModelWorks Direct artisans have decades of experience and own the company. We focus our energy and resources on producing the best product at competitive pricing. Since our models are built from scratch, each team leader will inspect the custom models on a daily and weekly basis to make sure we not only MEET our customers' requirements, but we EXCEED them!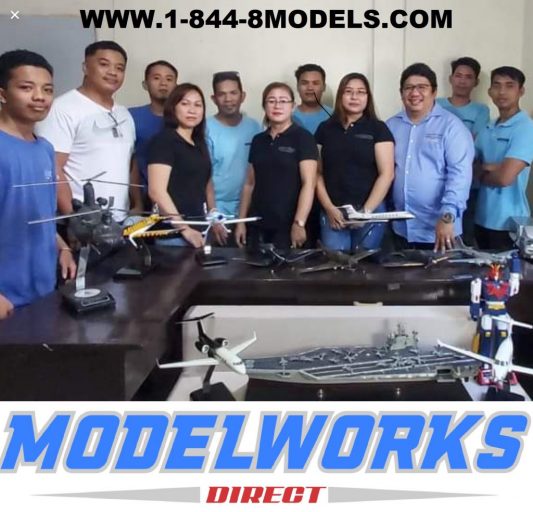 Quality Handbuilt Models from Direct Artisans
Our 25 person company consist of Artist from various branches of the creative world. The senior business partners consist of a Master Model Builder with more than 20 years of experience. Another partner is a Design Architect with a portfolio of accomplishments. Our family of Artisans has more than 100 years of combined experience.
Despite our humble beginnings, our team of artisans has only come together in the past 5 years. However, our Artisan has previously worked for other established companies before joining the Modelworks team. We can proudly say that we have indirectly built THOUSANDS of models for other companies around the world. Don't be surprised if you discover that a model you purchased from another company was in fact fabricated by Modelworks!
Our factory is geographically located in Pampanga, Philippines near the former US Subic Naval Base and the former Clark Air Force Base. Our strategic location and history provide us with a pool of talent and expertise in Military Ships Models, Custom Aircraft Models and just about any handmade model on this planet from 12 inches to 21 feet in size.
The simplest analogy to describe Modelworks Direct is by associating our organization with the US Navy's SEAL Team. We also operate in small teams that are highly trained and skilled. Like the Navy Seal Teams, our Artisans can rival any custom builder in the world while providing wholesale pricing that much corporate organization cannot financially afford. ModelWorks "mean and lean" organizational structure has virtually no "dead weight." We don't have overpaid secretaries or luxurious showrooms. What you do get is the highest quality model at the lowest feasible price. Experience the "Modelworks Difference" today.
Dave Rohee Corporate Communications | Corporate Writer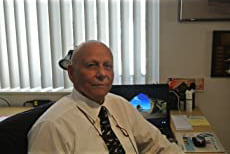 Dave Rohee, a retired airline pilot and aviation consultant with over forty years in the industry currently residing in Florida, has completed his book "Kidnapped: A Living Nightmare": a gripping and potent true story vividly evoking the terror of abduction in a foreign country. "Kidnapped" is the true story of an international kidnapping event that took place in China in 2001. This terrifying incident happened to a Canadian businessman trying to develop an aviation business in a foreign country. Unknown to him at the time, the country he chose was considered the worst place for a foreigner to try and start a business. This story is the hair-raising account of the kidnapping and its eventual outcome. There were several international law enforcement agencies involved with tracking down the perpetrators. These agencies worked diligently to find the criminals responsible for this kidnapping in an effort to apprehend them. This is the amazing story and recounted as it happened and the eventual outcome of the court case. Truth is definitely stranger than fiction, and this is one good example. This factual account will keep you engrossed by the twists and turns for the five days of captivity that seemed to last a lifetime. Published by New York City-based Page Publishing, Dave Rohee's book is an enthralling reflection on the author's kidnapping by Chinese criminals and the multinational effort to secure his release.
Herman Bongco Senior Partner | Chief Technology Officer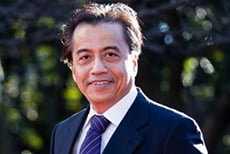 Herman is a Retired Architect and US Military Veteran.  He communicates directly with clients while reviewing photographs and blueprints.  His mastery of building, fabrication, and attention to detail provides him with the skills to build just about anything.
His technical expertise spans into Technology in the areas of Voice-over-IP, SEO, Web hosting, Security, and Data Management.  Projects are tracked and cataloged for monitoring, tracking, and sharing with clients during the entire build process.
ModelWorks capabilities go beyond desktop models. Modelworks builds models from 12 inches to 21 feet and larger. The largest thus far measures 60 feet in height. Herman's diverse technical background in building, technology, project management, and quality assurance are reinforced by his accomplishments.
He has worked on projects well over 10 Billion US Dollars in a variety of Building Developments and Networks backbones worldwide from the 1990s to 2020.  Herman has traveled to more than 50 cities around the globe.  His strong understanding of culture, values, and customer service transfers into the quality of the models produced.
Associate, AIA
American Institute of Architects, Microsoft Certified MCITP|MCSA, CompTIA Certified Security+,
CompTIA Certified Network+, VMware Certified, ITIL Certified
Lincoln Uson Partner | Regional Operations Director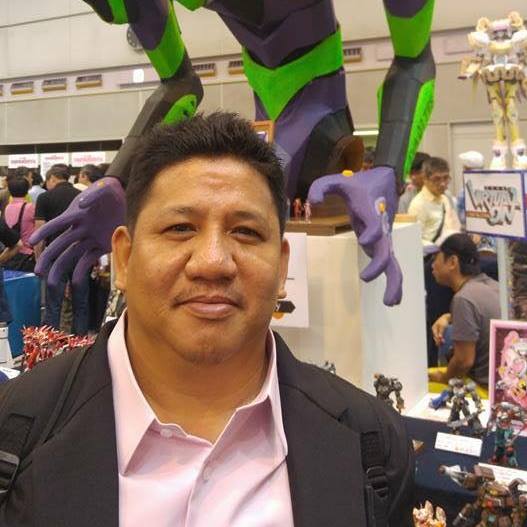 Lincoln Uson has been fabricating models since the age of 10. He came from a humbling beginning and built models as a form of survival. His passion for custom models allowed Lincoln to become a pioneer in the Global Custom Model Industry.  His hard work and accomplishments have enabled him to fabricate more than 50,000 models "with his bare hands."
Lincolns hands-on approach is the key to Modelworks success.  Most Model builders are owned and operated by people that don't have any Fabrication or Building background. Modelworks is the Exact Opposite.  Lincolns expertise enabled him to launch another company operating under the Fiberwerx and Fiberworks International brand.
The company motto is "If you can think it, Modelworks can build it" This is more than just a fancy slogan. Thanks to the fabrication expertise of Lincoln Uson, the ModelWorks family of companies has built large profile projects.  Some of these projects include a 5 foot Model for the Maersk Corporation and a 10 foot Globe for TV5.  One of the latest Fiberglass projects was a 20-foot Circular slide for the Google Corporation in Manila. When it comes to the Modelworks Brand, skies the limit.
Master Model Builder | Custom Fiberglass Fabrication Expert | 30 Years Experience in Fabrication